_________________________________________________________________________

Dear Fellow Conservative,
Annoyed at federal judge Gonzalo P. Curiel's persistent rulings against him in the Trump University case (brought by a law firm that has paid hundreds of thousands of dollars for speeches by Bill and Hillary), Republican presidential nominee Donald Trump said that maybe it's because the judge is a second-generation Mexican immigrant.
The entire media — and most of the GOP — have spent 10 months telling us that Mexicans in the United States are going to HATE Trump for saying he'll build a wall. Now they're outraged that Trump thinks one Mexican hates him for saying he'll build a wall.
Curiel has distributed scholarships to illegal aliens. He belongs to an organization that sends lawyers to the border to ensure that no illegal aliens' "human rights" are violated. The name of the organization? The San Diego La Raza Lawyers Association — "La Raza" meaning THE RACE.
Let's pause to imagine the nomination hearings for a white male who belonged to any organization for white people — much less one with the words "THE RACE" in its title.
The media were going to call Trump a racist whatever he did, and his attack on a Hispanic judge is way better than when they said it was racist for Republicans to talk about Obama's golfing.
Has anyone ever complained about the ethnicity of white judges or white juries? I've done some research and it turns out … THAT'S ALL WE'VE HEARD FOR THE PAST 40 YEARS.;
Click Here to Read Full Article »
Sincerely,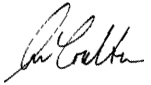 Ann Coulter
Lyle –
Viewpoints expressed herein are of the article's author(s), or of the person(s) or organization(s) quoted or linked therein, and do not necessarily represent those of The Olive Branch Report
Subscribe to my daily newsletter, and join hundreds of daily readers and receive news and relevant commentary
Don't forget to follow The Olive Branch Report on Facebook and Twitter. Now available on your Amazon Kindle Device. Please help spread the word about us, share our articles on your favorite social networks.
If you value what you see on The Olive, please consider donating, any amount helps. We derive NO revenue from this site, and upkeep is expensive.

LYLE J. RAPACKI, Ph.D. is a Protective Intelligence and Threat Assessment Specialist and private-sector Intelligence Analyst. He has provided Intelligence Briefings to selected members of the Arizona State Legislature on Border Security and related threats to State sovereignty since June, 2010. He provides intelligence analysis to elected officials and law enforcement across the Nation. He further distributes articles and commentaries warning the church to the threats coming like a pack of wolves looking for that which they can devour. Lyle is the author of the Amazon Kindle booklet: "Our Forefathers truly Appealed to Heaven" $5 Kindle.