OBAMA LOVES TO SPIT IN THE FACE OF SCRIPTURE
In what could accurately be described as Obama's greatest slap in the face to the Holy God of Israel, the LGBT flag was raised over the US Embassy in Israel. This is not done to support the LGBT Mafia. This was done to show Obama's contempt for the Holy Jewish Scriptures. The book of Leviticus condemns in no uncertain terms men lying with each other.
"If a man also lie with mankind, as he lieth with a woman, both of them have committed an abomination: they shall surely be put to death; their blood shall be upon them." Leviticus 20:13
Todd Starnes from Radio Fox News reported today that "the U.S. ambassador to Israel hoisted a gay pride flag over the American embassy in what is believed to be a groundbreaking moment.  "Proudly flying the colors," Ambassador Dan Shapiro wrote on the embassy's Facebook page. He posted a photograph showing a rainbow colored flag flying alongside the American flag outside the embassy in Tel Aviv.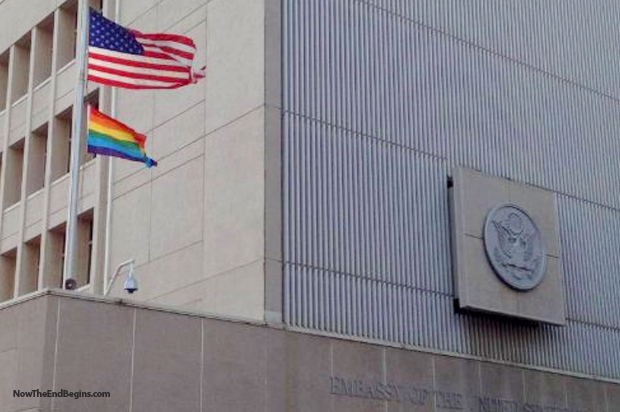 "For the first time in history, the U.S. Embassy in Tel Aviv has raised the Pride flag together with our American flag," Shapiro wrote. "We are proud to join with the municipality of Tel Aviv-Yafo and its residents in celebrating LGBT Pride Week."
So the Obama Administration publicly endorses and affirms the gay rights movement. Meanwhile, American military personnel are being ordered to remove Bibles from their desks and Bible verses from their walls — lest they be accused of publicly endorsing or affirming Christianity." (end report)
Did you catch that last part? Barack Obama has ordered the US Military to remove all traces of their Christian faith, but defiantly hoists the flag of the LGBT Mafia to fly in Israel and nearly equal with the American flag. These are the actions of someone with a deep-seated hatred of God, the Holy Bible and the Christian faith.
This is the spirit of Antichrist. The prophecies are beginning to be fulfilled.
Viewpoints expressed herein are of the article's author(s), or of the person(s) or organization(s) quoted or linked therein, and do not necessarily represent those of The Olive Branch Report
Subscribe to my daily newsletter, and join hundreds of daily readers and receive news and relevant commentary
Don't forget to follow The Olive Branch Report on Facebook and Twitter. Now available on your Amazon Kindle Device. Please help spread the word about us, share our articles on your favorite social networks.
If you value what you see on The Olive, please consider donating, any amount helps. We derive NO revenue from this site, and upkeep is expensive.

I seek first the kingdom of Christ because everything else in this world is perishing. All that I have is from God who is always faithful. I have worked hard all my life and will continue as long as God lends me breath. The mistakes and bad judgments I made in my life all stemmed from me trying to work things out by myself. I have learned the hard way that the victory over all of my problems and the answers to all of my desires lie solely in my Savior, Jesus Christ.
It is now my desire to share the words that God gives me to encourage and give hope to others who need the strength that only faith in Christ can give.