Pope Francis is the false prophet from Revelation
"Giving thanks unto the Father, which hath made us meet to be partakers of the inheritance of the saints in light: Who hath delivered us from the power of darkness, and hath translated us into the kingdom of his dear Son: In whom we have redemption through his blood, even the forgiveness of sins:"  Colossians 1:12-14
Pope Francis made not one, but two jaw-dropping statements today regarding bible doctrine and the teachings of the Catholic Church. In his first unbiblical remark, he stated that "the Christian who does not feel that Mary is his or her mother is and orphan."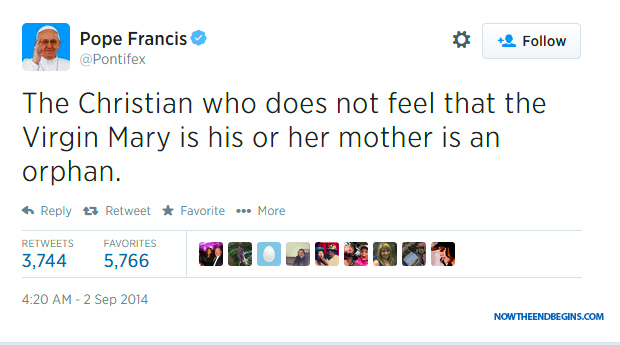 Wow, seriously? I thought Pope were infallible when they spoke on matters of doctrine. Guess not. This is what the bible says about our sonship with the Father:
"Having predestinated us unto the adoption of children by Jesus Christ to himself, according to the good pleasure of his will, To the praise of the glory of his grace, wherein he hath made us accepted in the beloved." Ephesians 1:5,6 
You will note that when we becomes sons of God, it is through Jesus Christ and no one else. Mary is not even listen in the equation. If you have been "adopted through Mary", you are not even in God's Family. But the second thing Francis said is literally mind-blowing. He said that we becomes Christians through the intercession of Mary!
"In our catecheses, we have often noted that we do not become a Christian on our own, but by being born and nurtured in the faith in the midst of the People of God, that is the Church," he stated. "She is a true mother who gives us life in Christ, and in the communion of the Holy Spirit, brings us into a common life with our brothers and sisters."

"The model of motherhood for the Church is the Blessed Virgin Mary, who in the fullness of time conceived through the Holy Spirit and gave birth to the Son of God," Pope Francis continued. "Her motherhood continues through the Church, who brings forth sons and daughters through baptism, whom she nourishes through the word of God."
Please read and reread the Pope's statements, for they are Satanic and demonically inspired. Pope Francis teaching that we are born again through the "redeeming work of Mary" is not just "bad theology", it is a teaching that if applied to your life will damn you to HELL for all eternity. Mary saves no one,not even herself. The apostle John calls born again, blood-washed believers the "sons of God" without mentioning Mary's name one time. Do you ever read the bible for yourself?
"Beloved, now are we the sons of God, and it doth not yet appear what we shall be: but we know that, when he shall appear, we shall be like him; for we shall see him as he is." 1 John 3:2
Salvation is in Jesus Christ, and in Him alone. Anything else, plus or minus, is not salvation and it is not bible. Beware the Pope's doctrine of demons, it's deadly.
SOURCE: Now The End Begins
Viewpoints expressed herein are of the article's author(s), or of the person(s) or organization(s) quoted or linked therein, and do not necessarily represent those of The Olive Branch Report
Subscribe to my daily newsletter, and join hundreds of daily readers and receive news and relevant commentary
Don't forget to follow The Olive Branch Report on Facebook and Twitter. Now available on your Amazon Kindle Device. Please help spread the word about us, share our articles on your favorite social networks.
If you value what you see on The Olive, please consider donating, any amount helps. We derive NO revenue from this site, and upkeep is expensive.

Since 2013, Christian news magazine The Olive Branch Report has featured the insightful writing and reporting of Greg Holt. His writing has been featured on American Prophet, American Clarion, Eagle Rising, Capitol Hill Outsider, Sons of Liberty Media, Rev. Austin Miles, and others. Greg is also the Publisher and Editor of Inspirational Christian Blogs.
Subscribe to my daily newsletter, and join hundreds of daily readers and receive news and relevant commentary
Follow The Olive on Facebook, Twitter, Pinterest, Social Cross and Gab