Microsoft has issued an emergency security update to fix a zer0-day vulnerability that is present in all versions of its Internet Explorer Web browser and that is actively being exploited. In an unexpected twist, the company says Windows XP users also will get the update, even though Microsoft officially ceased supporting XP last month.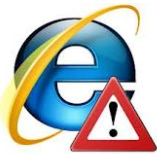 The rushed patch comes less than five days after the software giant warned users about active attacks that attempt to exploit a previously unknown security flaw in every supported version of IE. This flaw can be used to silently install malicious software without any help from users, save for perhaps browsing to a hacked or malicious site.
"We have made the decision to issue a security update for Windows XP users," writes Dustin C. Childs, group manager, response communications at Microsoft. "Windows XP is no longer supported by Microsoft, and we continue to encourage customers to migrate to a modern operating system, such as Windows 7 or 8.1. Additionally, customers are encouraged to upgrade to the latest version of Internet Explorer, IE 11."
Microsoft says the majority of customers have automatic updates enabled and will not need to take any action because protections will be downloaded and installed automatically. Windows users who don't take advantage of the automatic updates feature of Windows (or who don't wish to wait around for it to install the patch) can do so by visiting Windows Update.
SOURCE: Krebson Security
Viewpoints expressed herein are of the article's author(s), or of the person(s) or organization(s) quoted or linked therein, and do not necessarily represent those of The Olive Branch Report
Subscribe to my daily newsletter, and join hundreds of daily readers and receive news and relevant commentary
Don't forget to follow The Olive Branch Report on Facebook and Twitter.  Please help spread the word about us, share our articles on your favorite social networks.
If you value what you see on The Olive, please consider donating, any amount helps. We derive NO revenue from this site, and upkeep is expensive.

Since 2013, Christian news magazine The Olive Branch Report has featured the insightful writing and reporting of Greg Holt. His writing has been featured on American Prophet, Conservative Firing Line, DC Clothesline, Eagle Rising, Capitol Hill Outsider, Sons of Liberty Media, Rev. Austin Miles, and others. Greg is also the Publisher and Editor of Inspirational Christian Blogs.
Subscribe to my daily newsletter, and join hundreds of daily readers and receive news and relevant commentary
Follow The Olive on Facebook, Twitter, Pinterest, Social Cross and Gab